The popularity of Eco Tourism has skyrocketed in the past 10 years. Responsible is estimated to reach 1.6 billion arrivals in 2020, with the market growing at a rate of 25% a year.
Luxurious eco resorts, spas and hotels provide 5-star service in lush settings. For the seasoned traveler, it is a chance to experience adventure by connecting with local communities and culture. Eco lodges pay particular attention to resource conservation, local ecosystems and sustainability. They go to great lengths to create diverse and insightful environmetal policies that go beyond the tired: "We use recycled water for all our facilities." Basking in luxury has never been so environmentally friendly.
Here are 5 of the best eco resorts in the world…
EcoCamp, Patagonia
Patagonia's EcoCamp consistently makes best-of lists, and it's easy to see why. The Torres del Paine National Park's drastic, lush, spartan landscapes dominate the horizon. The camp's unique domes provide panoramic views of volcanoes, mountains and breathtaking ice-fields. The domes allow natural heat and light to seep in and feature a composting bathrooms. The EcoCamp uses renewable and natural energy. Activities include treks, picnic lunches stocked with locally sourced ingredients and unparalleled opportunities for stunning photographs. The outdoors beckons. This takes a whole new meaning to sleeping under stars.
Bardessono, California
Tourists wanting to explore North America may want to check into Bardessono. This eco resort sits in the middle of California's Napa Valley and wine country. The hotel boasts a well-deserved LEEDS (Leadership in Energy and Environmental Design) Certification Salvaged trees make up all of the property's wood. Vertical gardens dominate the area and solar energy is used throughout the complex. The food is organic, sustainable and recycling is a key part of the hotel's structure. Wine tasting has never been so guilt-free, the vineyards are just within walking distance!
Six Senses Hideaway, Hua Hin
On the other side of the world, the Six Senses Hideaway, a self-sustaining hotel community that boasts more than just luxurious rooms and gorgeous lapiz blue beaches. Luxury eco resorts are famous for carbon-offsetting and energy efficiency, but rarely do they grow their own produce in an organic vegetable garden. Their garden utilizes permaculture techniques to lessen environmental impact, creates their own compost and even go so far as to use electric transport. They minimize their cultural impact by focusing on training local talent and by supporting local businesses and crafts.
Longitude 131, Australia
If the beach sounds too bland, try the desert. Longitude 131′s stellar reputation is well-deserved. Even amongst luxury eco resorts, Longitude 131 creates a breathtaking traveling experience. The camp is set up near the spectacular Ayers Rock, giving the traveler a taste of quite possibly the best landscape in Australia. This can all be watched, photographed and discussed from the comfort of solar powered tents while dining on your choice of local cuisine.
Campi Ya Kanzi, Mt. Kilimanjaro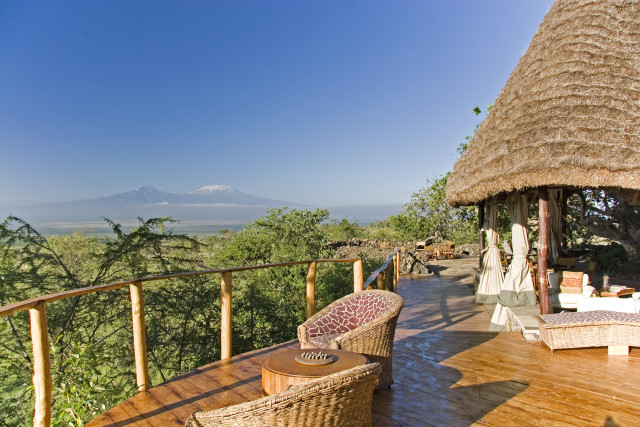 Not ready for the Australian Desert? Then Campi Ya Kanzi might be the best bet for eco conscious travelers looking for the exotic animal experience. Situated near Mt. Kilimanjaro, Campi Ya Kanzi stands out for its social dedication to the local Maasai community. The camp itself was built completely out of local materials, heated by solar panels. Recycled water and rain collection provide the Camp Ya Kanzi's water needs. This African luxury eco resort is perfect for the traveler dreaming of an African safari adventure.